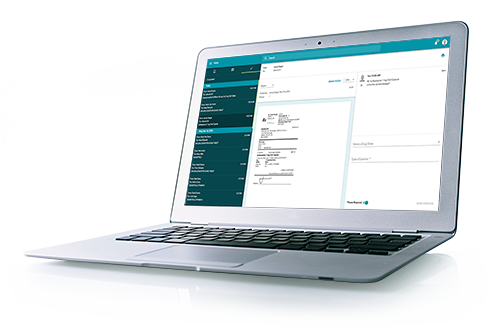 Scripts received
Connecting Pharmacists and Prescribers Digitally
FreedomRx is an ePrescribing and communications tool that works with AccuroEMR to connect providers and pharmacists, for streamlined prescription intake and faster communication.
Pharmacies can receive ePrescriptions digitally and send secure electronic messages to prescribers when clarification is needed. Freedom allows you to spend your time where it has the most impact: on your business and your patients, not on the phone or checking the fax machine.

Two-way communication with Providers
Email-like secure communication enables messages to go direct to prescribers EMR inbox saving valuable time.

Receive prescriptions
digitally
Through an easy-to-use inbox, prescriptions can be received, reviewed, printed and filed into your dispensing system.

Prescribers can indicate the patient's expectedtime of arrival within the pharmacy through the EMR prescribing tool. Improve accuracy and patient adherence.
No more fax
FreedomRx works in tandem with AccuroEMR - Canada's largest single-platform EMR. Healthcare Providers using Accuro send ePrescriptions and messages from the EMR directly to FreedomRx, providing a secure, real-time communication stream between Providers and Pharmacists. FreedomRx works alongside your dispensing system as a communications inbox – it does not replace it.
Click here
for more information on Accuro ePrescribe
"ePrescribe is a great tool that allows me to securely send prescriptions to pharmacies without having to provide any physical copies to the patient. From my perspective, there is no learning curve to the tool, as the workflow stays the same. It is a faster and more secure way to get the prescription to the pharmacy and communicate back and forth with the pharmacist. It is increasing patient satisfaction and decreasing their wait to fill their prescription significantly."

DR. VINEET NAIR | FAMILY PRACTICE
Core Family Health Centre, London ON
Contact us to get started today!
Pharmacy Partners
FreedomRx is being used by many independent pharmacies, Shoppers Drug Mart and Loblaw Pharmacies.